Roger Dow has never let a crisis deter him. 
The outgoing CEO of the U.S. Travel Association took the post in 2005 when the travel industry had not yet fully recovered from the fallout of the 9/11 attacks, and a "Fortress America" attitude at the Department of Homeland Security was suppressing inbound travel.
His tenure over the next 17 years included coordinating industry response to the Great Recession, Zika and Ebola outbreaks, the Deepwater Horizon oil spill in the Gulf of Mexico and, finally, the Covid-19 pandemic. 
And during his time at the helm of U.S. Travel, he helped steer the industry to record-setting inbound visitation for 10 consecutive years, from 2009 to 2019.
Related: Roger Dow inducted into U.S. Travel's Hall of Leaders
Dow "leaves a remarkable legacy," said NYC & Company CEO Fred Dixon. During the pandemic, he added, "Roger's steadfast leadership has been second to none."
Dow may be stepping down from his post, but he isn't stepping away from confronting travel industry crises. Rather, he's heading into the eye of the latest storm.
"The two big impediments to travel industry growth are workforce and sustainability issues," Dow said, revealing that his next venture, Future Work Solutions, will aim to solve the nation's hospitality workforce crunch, and with Forbes he will create sustainability criteria for hotels. "I see a lot of pressure coming down the road from companies and agencies saying we will only book in hotels or places that have a sustainability verification."
Dow said he thought about retiring both when he left a career with Marriott International in 2004 and again in 2010 when he completed what was supposed to be a five-year term at U.S. Travel. Instead, he heeded a friend's advice. 
"Bill Marriott is one of my mentors and best friends in life," Dow said of the 90-year-old executive chairman of Marriott International. "Three or four times in the past year, I've talked about retiring, and Bill Marriott said, 'Never retire.' He said, 'All my friends that I see that retire, half get sick, and they die. Even if you want to be a greeter at Walmart, do something to get out of bed in the morning.' So I found something to get out of bed for in the morning."
A salesman on Capitol Hill
Dow's legacy is defined by his connections in travel and Washington. It helped the organization pursue relief and recovery for travel companies during the pandemic and, over time, convinced the White House to repeal the federal predeparture testing requirement for inbound air travelers. 
"Roger Dow is the reason that the U.S. Travel Association has a seat at the table on key issues that affect our industry," said Elliott Ferguson, CEO of Destination DC.
Among Dow's top accomplishments is bringing the industry together.
"When everybody works together, that's when gets things get passed," he said, pointing to 13 Visa Waiver countries that were added during his term. He points to South Korea to show how valuable one Visa Waiver country can be: 425,000 South Koreans visited the year before attaining Visa Waiver Program status. One year later, it was 800,000.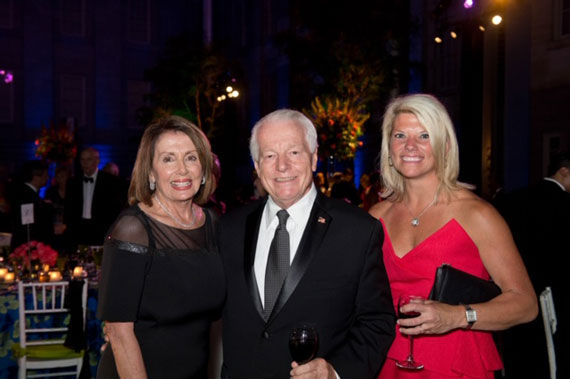 Dow also cited the launch of trusted traveler programs such as TSA PreCheck and Global Entry "because of the pressure we put on the government" and the creation of Brand USA, the nation's marketing arm. Prior to 2010, when President Barack Obama signed the Brand USA/Travel Promotion Act, there was no ongoing legislated governmental support for travel and tourism. The act was reauthorized by Congress in 2014 and 2019. 
He credits his accomplishments to a skill he honed at Marriott: sales. He insists he has never been a lobbyist. 
"I realized this is just sales, and that's what I've done my whole life," he said. "It's sitting down with Mr. or Ms. Congressman, saying, 'Here's how many jobs you're losing, here's what we're proposing, here's what it's costing. Would this make sense to change?'" 
Over two decades in D.C., Dow learned to approach each relationship differently. 
"Obama was someone you could speak firmly to, and he would react," Dow said. "When Trump came on, I got a lot of criticism: 'You're not tough enough on Trump.' But you've got to understand the person you're dealing with. I watched people go to the White House and not come out with what they wanted. And I said, you know, we're gonna have to take a different tack."
When Penny Pritzker was secretary of commerce under Obama, Dow said she approached him and said, "'Roger, I'm not going to be here long. What can we do? Where can we make a difference?' I said 'China.'"
Pritzker helped facilitate five-year visas for students and 10-year visas for tourists. The Chinese inbound tourist market grew from 300,000 to 3.2 million in 2019, with each visitor spending, on average, $7,000. "The math is staggering," Dow said. 
"The lesson is that one size doesn't fit all," he said of political relationships. "I have a very, very good relationship with Nancy Pelosi. I have a very good relationship with Kevin McCarthy. And you've got to be able to do that." He also counts both Republican Sen. Roy Blunt of Missouri and Democratic Sen. Amy Klobuchar of Minnesota as friends. 
And his members appreciate the results.
"Through his tireless dedication and passion, standing beside the industry through every up and down, he has given tourism a national identity and a voice in D.C.," said Caroline Beteta, Visit California CEO. "He understands the value of relationships and was able to unify competitors to strengthen us as a whole. No one works harder, or has a better sense of humor, than Roger, and we're fortunate to have had his leadership through so many pivotal moments."
Source: Read Full Article