When Richard Fain officially hands over the Royal Caribbean Group reins of leadership to Jason Liberty on Jan. 3, the transition is not necessarily intended to maintain the status quo.
"I think he will take the company in a different direction. I hope he will," Fain said during an Oct. 9 interview. "Because we think one of our success factors has been that we always change. And I would expect Jason to lead such a change in the future, and I'm looking forward to it."
Fain will step down as the company's CEO after 33 years in the role that started as the head of one brand, Royal Caribbean International. Under his leadership the company expanded to encompass Celebrity Cruises, Silversea Cruises and several European brands, including Hapag-Lloyd and TUI Cruises. 
Liberty, Royal Caribbean Group's current CFO, has been with the company for about half of Fain's tenure and in his current position since 2013.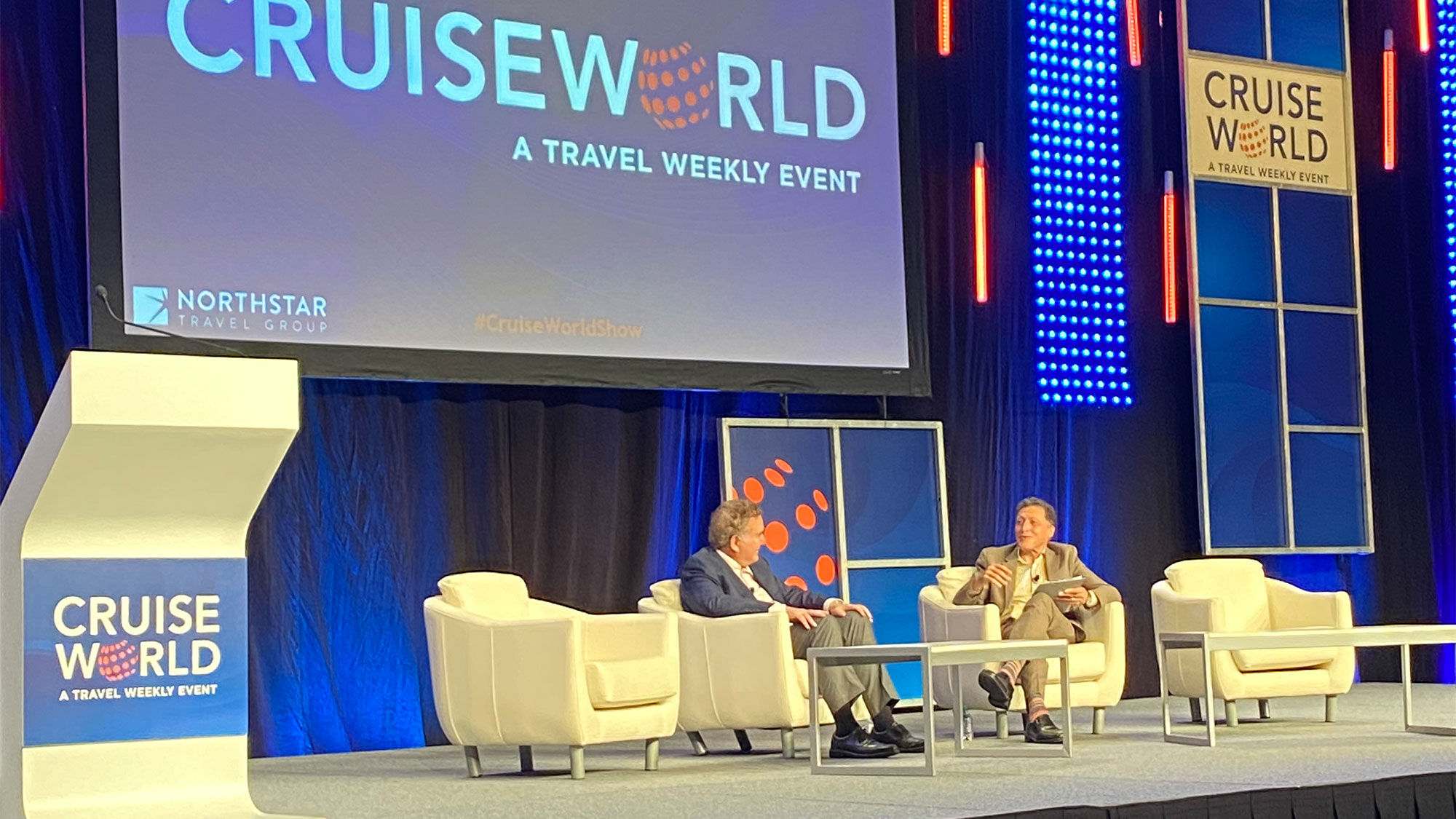 Richard Fain's warm comments during his CEO Conversation with Travel Weekly editor-in-chief Arnie Weissmann hinted that his working days in the industry are not over yet.
Liberty, who has worked alongside Fain on charting strategic direction for 13 of the 16 years he's been at Royal, said in an interview that he doesn't yet have any major changes planned. The "culture and values" that are the foundation of decision-making at Royal "are ones I've been very involved in developing and enhancing over the years. And those values are my values," he said.
"While there's always change, because change is the ultimate constant, I think the continuity is very much there in just continuing to deliver the best vacations on Earth."
Still, Liberty echoed Fain in saying that, at Royal, "everything we do is constantly evolving."
And for him, one change will involve leaning more into environmental, social and governance issues.
"I know that's a passion for Richard, as well, but it's also a passion for me as we develop our strategies and plans focusing on climate and what we can do to significantly reduce or minimize our footprint," he said.
Praise from the trade
Upon hearing that Fain was stepping down as CEO, travel advisors were quick to praise his dedication to the trade, especially his support for travel agencies during the pandemic.
"He never wavered from this commitment and showed it once again by loaning the small travel agency money during this pandemic in spite of the significant financial challenges his own company faced," said Brad Tolkin, co-CEO of World Travel Holdings.
Starting in March 2020, Royal launched the RCL Cares program to assist travel advisors during the global cruise shutdown, first by providing support to help them navigate government benefits such as the Cares Act and later with the Pay It Forward program that provides three-year, interest-free loans to help agencies return to growth.
"As proud as I am of the work he's done, seeing his wholehearted commitment to help travel advisors pull through the uncertainty of the pandemic reminds me that beyond his visionary leadership is his heart for the people in our industry," said Michelle Fee, CEO of Cruise Planners.
Fain said that the agency channel enabled Royal to grow into the multibrand company it is today.
"I have been a strong supporter of the travel advisor community, not because I'm a nice guy — although I'd like to think that I am — but because I think it's in the industry's best interest," he said. "I think they are a powerful force for our good, and it behooves us to be supportive of the people who support us."
He acknowledged that is something Wall Street has often not understood. 
"Wall Street wanted us to be successful. And the travel advisor community makes us successful," Fain said. "Now, Wall Street, I think it's fair to say, has often thought that the tactic to be successful is to move away from the travel advisor community. We think that view is short-sighted, and we don't agree with it. And I think our results bear that out."
Liberty said that he also values the agency channel. 
"I am a huge advocate of the trade," he said. "I have been very involved in many of our brands. I'm in charge of Silversea, I'm in charge of Hapag and TUI. This is a complex product, and the travel agent community adds a lot of value." 
Liberty plans to interact and communicate with the trade on a very regular basis. 
"I intend to spend more one-on-one time with them to listen to them, as they're very important stakeholders for us," he said.
If Liberty is not quite as forward-facing as Fain with the agency community, he could be forgiven. Fain has long been a fixture on industry panels and at events. And during the pandemic he recorded at least one video per month for travel advisors to update them during the industry shutdown and its return to service.
Liberty, on the other hand, described himself as "a little bit of a hidden secret externally."
He said he has been very involved with all of the Royal brands, which he said work "exceptionally well" thanks to their great leadership. 
"In my current role I've been pretty much Richard's right hand since I started with the company," he said. "So my involvement with the different elements of the CEO job is pretty well understood. And I'm very much looking forward to taking full ownership of it." 
Source: Read Full Article