The rebranded name of an iconic resort in Punta Cana is quite a mouthful: Sanctuary Cap Cana, a Luxury Collection All-Inclusive Resort, Dominican Republic.
There's history behind that name. The adults-only Sanctuary resort marks the first luxury, all-inclusive addition to Marriott International's Luxury Collection brand, which currently comprises more than 30 properties in the Caribbean and Latin America.
The storied resort resembles a colonial Spanish castle perched on a cliff by the ocean within Cap Cana's gated, 3,000-acre enclave. Sanctuary opened in 2007 under the Alsol brand, was renovated in 2014 and reopened as an adults-only property.
Playa Hotels & Resorts assumed management of Sanctuary Cap Cana in 2017. In 2019, a $45 million renovation added 140 suites in two new towers; expanded the stunning 20,000-square-foot Sanctuary Spa to include 12 cabins (called fitness rooms), a hydrotherapy circuit, a fitness center and a gym; and also featured a redesign of restaurants, bars and pools.
Powerful winds and rain from Hurricane Fiona battered the Cap Cana region on the far eastern coast of the Dominican Republic on Sept. 19, temporarily closing several resorts, including Sanctuary and postponed the official launch event to late January. It took place on the resort's Spanish-style Colonial Terrace with its illuminated signature Castle building as the backdrop.
The event marked Sanctuary's debut as a luxury, adults-only all-inclusive and the first Playa-managed resort under a Marriott International brand.
Fernando Mulet, Playa's chief investment officer and executive vice president, noted at the time that "in this first venture with Marriott International, Sanctuary Cap Cana is the perfect choice. The partnership between Playa and Marriott defines the new level of luxury we are bringing to our customers."
Related: Fernando Mulet is On the Record
Its 324 suites include 19 room categories, some of which include butler services. Accommodations include oceanfront luxury villas; castle swim-out suites and honeymoon units; luxury oceanview suites; private island accommodations; and the grand, two-level Castle Island Suite, with two bedrooms, living and dining areas and three indoor plunge pools with floor-to-ceiling windows overlooking the Caribbean Sea.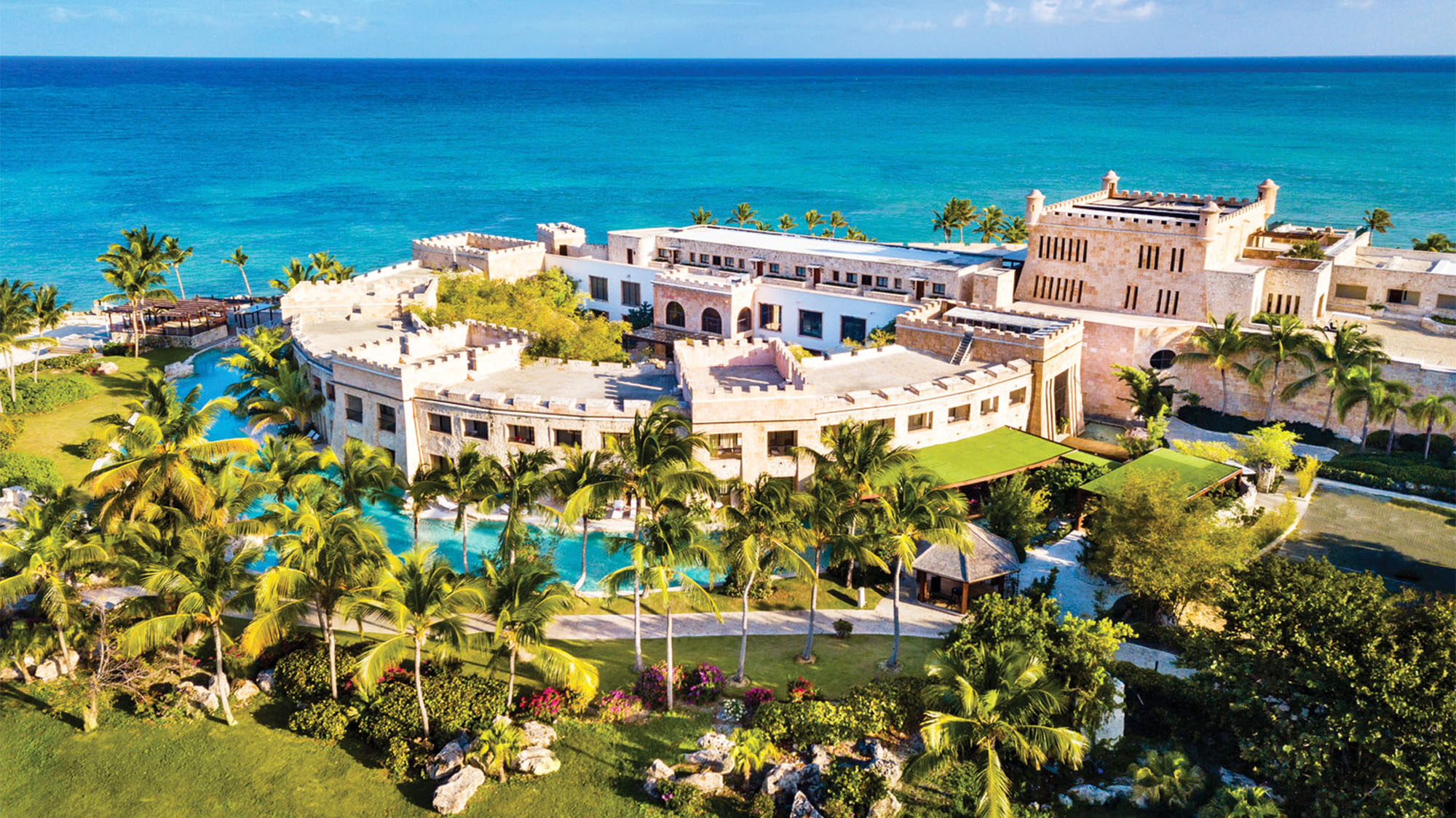 Comfort and plentiful dining
My accommodations, in a third-floor luxury oceanview suite, featured views of the main pool, a smaller pool and the beach and sea beyond. I breakfasted on the balcony, watched the sunset at dusk and the moonrise later on. In the evening, the entire resort was aglow with soft lighting that illuminated pathways and outdoor gathering spots.
The suite's contemporary furnishings were comfortable, and the seating area held a low table festooned with a fruit platter, a pear-shaped bottle of Dominican rum and several pieces of candy made from cacao, the bean that is an island specialty. 
A large bathroom, a king bed, walk-in closet and complimentary minibar stocked with water bottles, soft drinks and the local Presidente beer completed the spacious unit.
During my stay, I visited several of the resort's four a la carte restaurants and the buffet restaurant, including dipping into Northern Italian cuisine at Capriccio's, dining on Argentinean and Spanish grilled meats at the Steakhouse, sampling Dominican lobster at the Blue Marlin — a restaurant perched on stilts that overlooks the water — slurping smoothies at the Beach Bar and sipping cocktails at the lobby's Love Bar.
A frequent stop for me was the lobby coffee shop, which served Dominican coffees and pastries all day.
In addition, Sanctuary Town, across from the lobby, featured a collection of bistros, such as the Burger Factory, Mamma's Pizza, Anejos Tobacco and Rum Museum and Beers of the World. El Rico de Paco and Wok sushi restaurants within Sanctuary Town require reservations.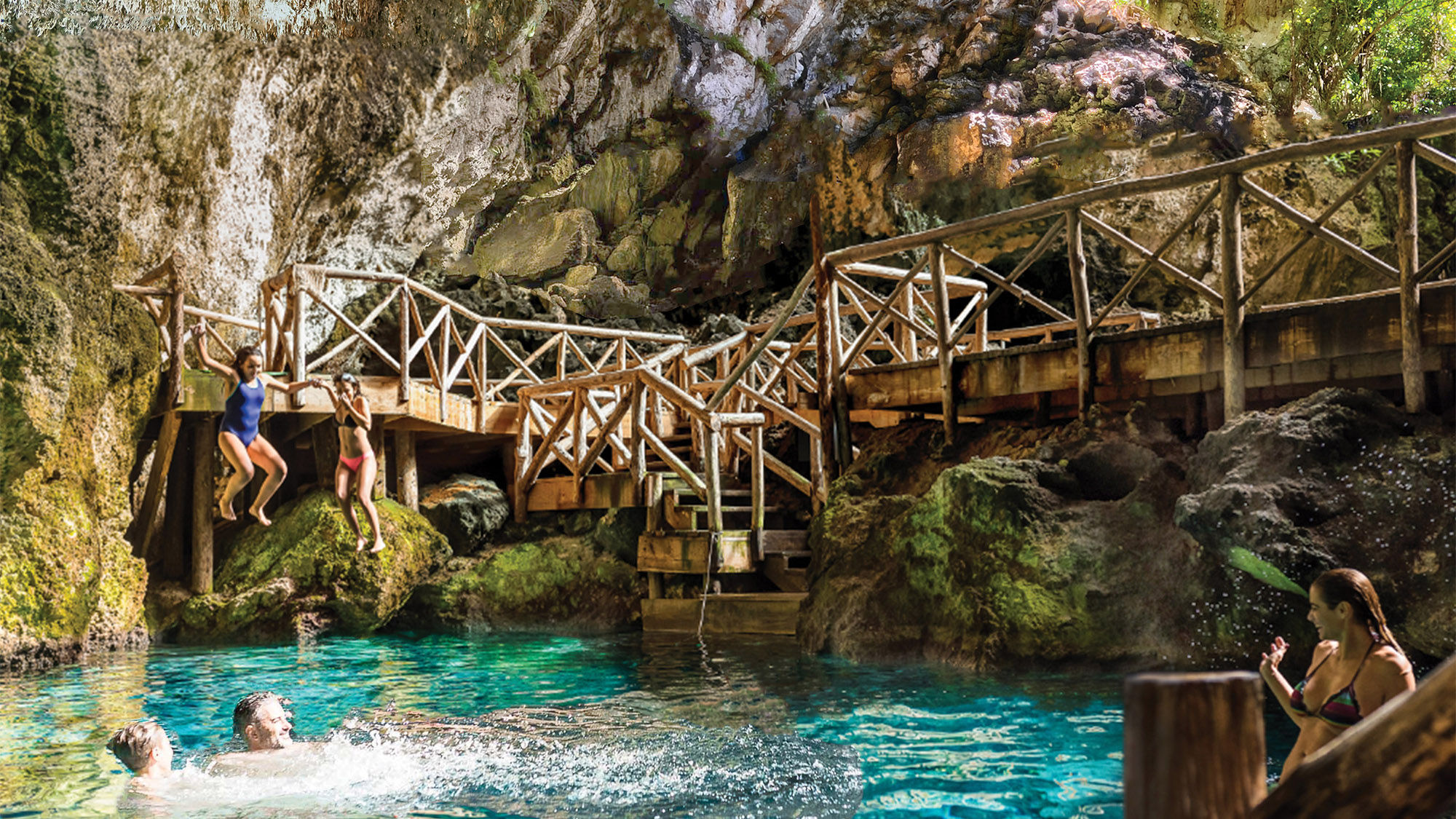 Lots to see and do, inside and out
Sanctuary puts an emphasis on curated experiences and activities both inside and outside the resort. Guests are offered off-site day tours and excursions along with free transport to nearby attractions, including Scape Park, which features hiking trails, ziplines, cave swimming, 4×4 dune buggy rides and a replica Taino village. Admission is $129 per adult, $68 for ages 12 and under.
The nearby Los Establos Equestrian Center offers riding lessons and polo fields, while the Cap Cana Marina, scene of world-class fishing tournaments, has more than 150 slips for yachts up to 250 feet long and serves as a protected harbor during hurricane season. Its restaurants and bars offer extraordinary sunset views.
At the resort, guests have access to the 18-hole Punta Espada Golf Club; six pools, including one with a swim-up bar; a long stretch of beach with plenty of chaise lounges and cabanas; and a nightclub.
The grounds surrounding the walkways and footpaths showcase gardens to wander through, fountains to sit by and hammocks to swing in.
Guests can also book the complimentary, twice-weekly Fountains tour during their stay. My guide on that tour was Frank Reyus, who is also one of Sanctuary's butlers.
Reyus recounted portions of the resort's history at each of the four fountains on the property, adding at the second fountain that "this is where to go when it is really hot. There's always shade and breezes here."
The final stop on the tour was the predominant showpiece in the lobby: four tall, illuminated columns of healing crystals. Reyus encouraged me to try to peel off a sliver of crystal from one of the columns. "It will ward off bad energy if you can get just a small piece and then always carry it with you," he told me.
I broke a fingernail trying to do that, but the woman next to me succeeded — although her small crystal broke in two when dislodged from the column. She gave me a small piece that I now carry with me.
Sanctuary is doing well by capitalizing on the core values that are Marriott's high priorities in the all-inclusive sector: its luxury services, guest experiences, welcoming staff, wellness offerings and amenities.
Although the resort was fully booked during my stay, it felt serene, spacious, uncrowded and, well, peaceful. 
Source: Read Full Article