It's easy to become jaded in this job. I spend a lot of my time in some of the very best resorts in the world, and after a while, they can start to run together. So when an experience sticks with you long after it's over, you know it has to be something special. For me, this experience was a most recent visit to the Grand Solmar at Rancho San Lucas Resort Golf & Spa.
There is a lot to love about the Grand Solmar. But for me, what has kept it embedded in my memory is the oceanfront spa — truly one of the most memorable spa experiences I have had in all my adventures at luxury resorts in Mexico. 
The oceanfront, outdoor spa consists of several thatched-roof huts that face out toward the ocean, with one wall completely removed so that the sea breeze is a consistent part of the spa experience. At the center of the spa area are pool-front cabanas that wreath a central hot tub. Guests can choose from a menu of massages and treatments, but the real magic at the spa is in its Experiences.
My husband and I were able to try the Tamma Wakoe Couples experience, an 80-minute massage that was on another level from most other massages I've experienced. The therapists are beyond precise, targeting every ache and pain with expertise. With the soundtrack of the crashing waves and the freshness of the ocean breeze, it's impossible to not shut out the rest of the world. Even my husband, a staunch critic of massages, had to be peeled from the table in a state of sheer bliss.
Following the massages, we were brought glasses of Champagne while we soaked in the outdoor hot tub, before being escorted to the Sunset Bar, an oceanfront restaurant with cabanas, where a lunch pairing was waiting for us. Prior to our service, we were asked to select an appetizer, entree and dessert, as well as whatever we would like to drink. We selected a bottle of Veuve Clicquot (of course!), tomato salad, mushroom risotto and an assortment of satay skewers. It was the perfect end to an experience that was already indulgent and special.
Other experiences at the spa are for individuals, such as the four-handed massage, an oxygen facial and a body wrap. All of these experiences include a lunch pairing. These Experiences are what help set the entire resort experience ahead of others in Los Cabos.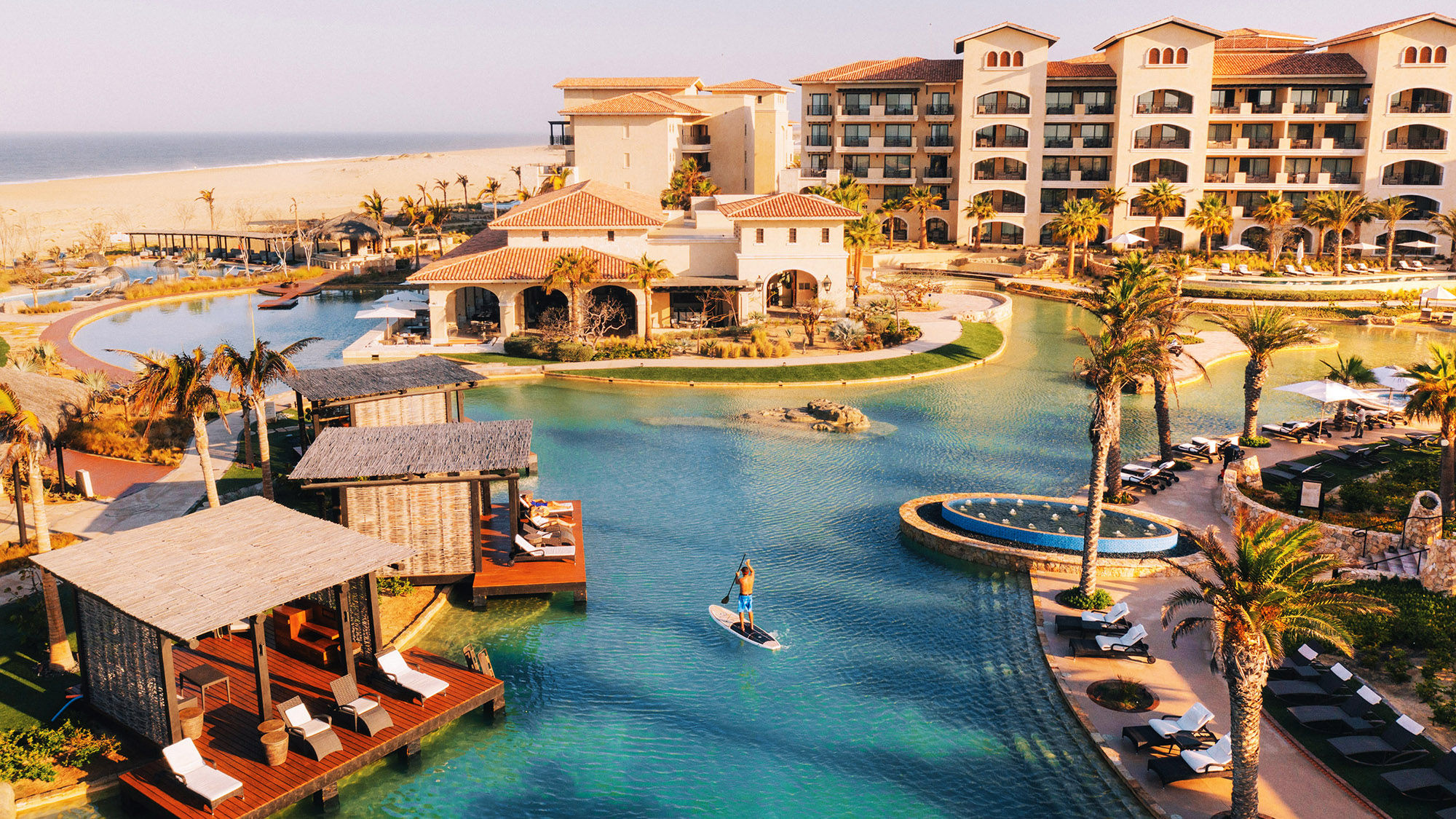 Dining with views
The rest of the Grand Solmar did not disappoint, either. One of the main highlights of the resort is its fabulous dining. With or without the spa, a first stop for any guest should be the Sunset Bar, where tables sit under shady cabanas overlooking one of the oceanfront infinity-edge pools.
This spot oozes tranquility, with panoramic views of the desert contrasted against the crashing Pacific. This is a perfect spot to chill over a glass of wine and a fresh salad or one of the restaurant's signature sushi rolls, particularly if you've just arrived and your room is not quite ready.
All-day dining can be found at Anica, which has gorgeous views from its patio and fire pits. Wonderful for dinner, the menu highlights include the grilled meats and seafood, tuna tiradito and the charcuterie board. Be sure to book a table for sunset, because the views are truly explosive.
The resort also has a free shuttle that will take guests over to the brand's resort in Cabo San Lucas, where guests can enjoy the iconic restaurants at the Grand Solmar at Land's End.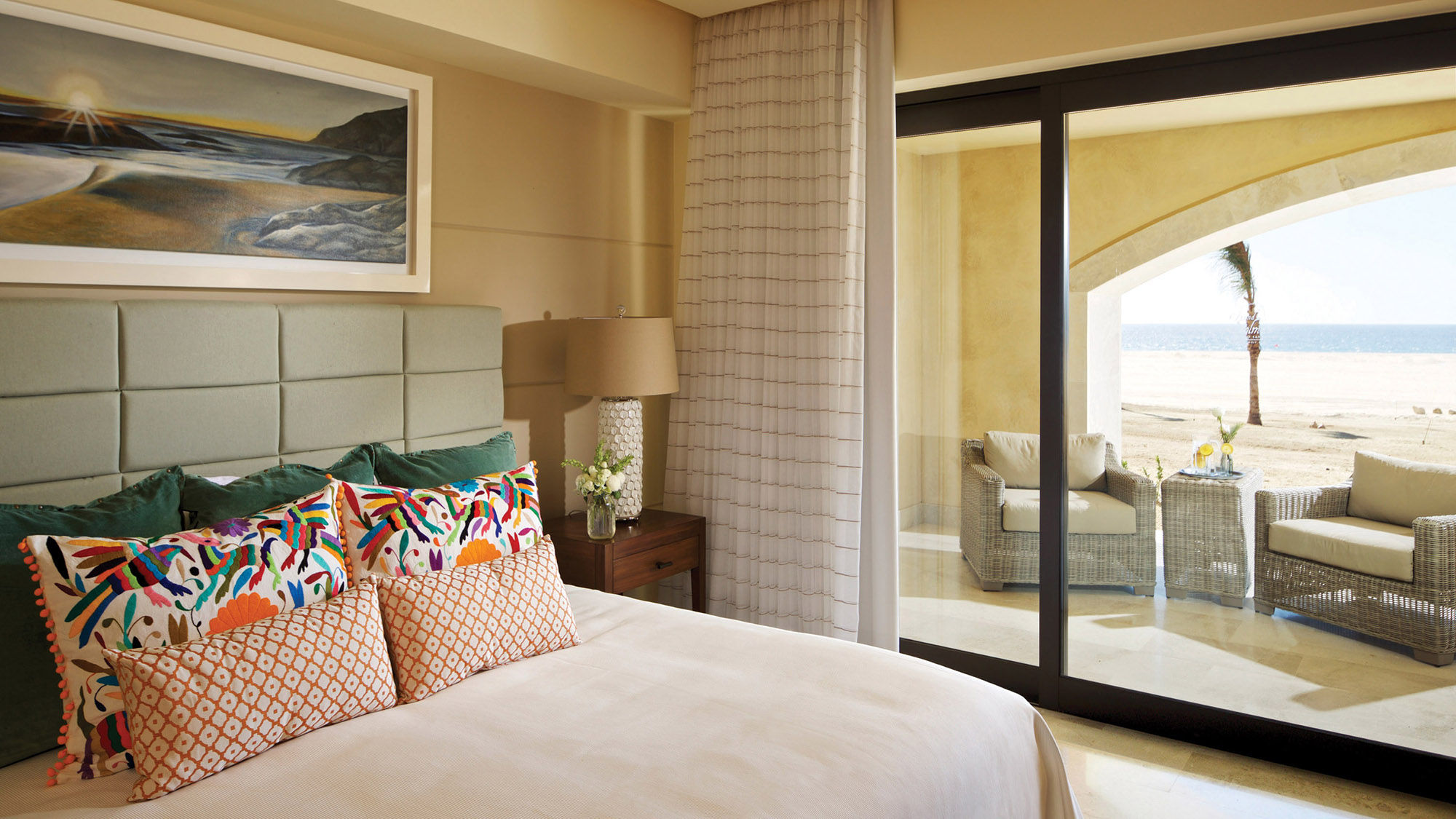 Expansive rooms
Rooms at the Grand Solmar at Rancho San Lucas come in three categories: Grand Studio, Master Suite and Presidential Suite. The Presidential Suites are 2,038 square feet, with a maximum of six guests. Master Suites are 1,245 square feet for up to four guests.
Even the Grand Studios are expansive at 828 square feet, with a maximum of three guests.
All suites have marble floors, private balconies, Jacuzzi tubs in the bathroom and fully equipped kitchens. The resort has an all-inclusive package, or guests can choose a traditional European Plan or opt to cook in their rooms.
Make note that the Grand Solmar technically opened in 2018, but its planned expansion was halted because of the pandemic. Now, it is back to its efforts to open new room towers, one of which is scheduled to open in early 2023, as well as more restaurants, bars, a lazy river and a new lobby.
For now, the Grand Solmar is an intimate size with less than 130 rooms; several pool areas, including a small waterslide and a rope swing; swim up bars; and an adults-only, oceanfront infinity-edge pool.
The vibe may change as the resort expands. For now, though, I can say with confidence that this place is truly special and absolutely worth experiencing while it is at this size. 
Source: Read Full Article