Before crews built train tracks and industrial infrastructure across San Francisco's Mission Bay district, south of downtown, salt marsh and seawater covered the landscape. The rail yards were marked for redevelopment in the late 1990s, and a 300-acre mixed-use neighborhood took shape.
Last summer, Mission Bay welcomed its first hotel: the 299-room Luma Hotel San Francisco. In a city where plenty of big hotel brands occupy well-known districts, the dynamic, modern Mission Bay corridor felt like a natural fit for an independent, tech-focused newcomer like Luma.
Abel Barrera, Luma San Francisco's sales and marketing director, calls Mission Bay "the new heart of San Francisco."
"If you spend some time here, you really see the transition," he said.
Luma sits half a mile north of the Chase Center, home of the NBA's Golden State Warriors since 2019. The San Francisco Giants play baseball just across Mission Creek Channel, at Oracle Park. The hotel is blocks from a University of California-San Francisco medical campus, Uber's San Francisco headquarters and other tech, biotech, medical and corporate facilities.
• Related: San Francisco struggles in its comeback from Covid
"A lot of the hotel's architectural highlights, design features and art pieces pay homage to the history of Mission Bay," Barrera said. "We're a very tech-forward hotel, and that reflects the direction the neighborhood has taken since those salt ponds and marshlands."
The crystalline structure of salt inspired the design of laser-cut metal panels illuminated each night on the Luma's exterior. Inside, artist Jim Campbell used 4,000 LED bulbs to create a dynamic lobby installation where shadowed figures climb a twinkling waterfall. Eight tech-equipped venues offering 7,200 square feet of hotel meetings space are named for birds that have flown over Mission Bay waterways.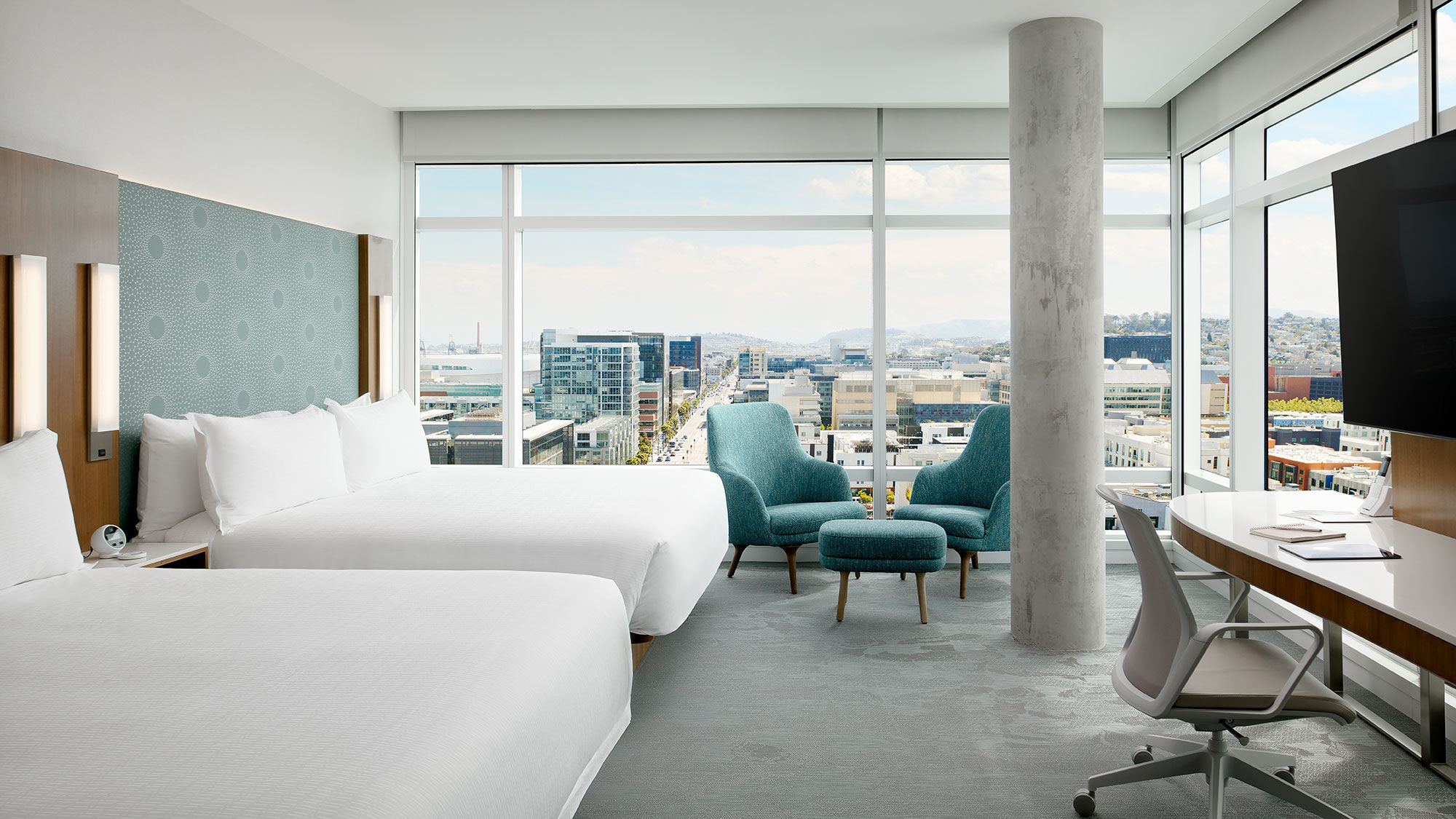 Luma earned LEED Silver certification for this newbuild hotel, where room features range from walk-in showers and full-length backlit mirrors to 65-inch smart televisions, Frette bedding and floor-to-ceiling windows with motorized shades. A 16th floor penthouse has separate living and dining spaces, along with a wet bar, soaking tub and river stone shower.
Select corner rooms are outfitted with oversize king beds and extra-tall showers to accommodate athletes in town for sporting events at the nearby venues.
Glow Fit, Luma's 1,500-square-foot fitness center, features equipment by Precor, Aviron, Assault and TRX plus Forme mirrors that stream workouts by Barry's trainers. The hotel can arrange kayaking, stand-up paddleboarding and yachting outings on the bay, and walking trails weave their way along the nearby waterfront. A stroll down Third Street leads to the Museum of Craft and Design and the Minnesota Street Project's independent galleries and exhibition spaces.
Food and beverage options
Twyne, Luma's lobby-level coffee counter, serves local Sightglass blends as well as pastries from the San Francisco bakery Craftsman and Wolves. Trevino Wine Bar takes over the space after 5 p.m., offering wines by the bottle or the glass.
Hotel guests and post-work professionals find cocktails at Cavana, the hotel's rooftop bar and restaurant. Located on the 17th floor, it has a wraparound patio with fire pit seating and views of the city skyline, the Bay Bridge and Oracle Park. Red snapper tacos, white corn arepas, grilled chicken skewers and Brazilian braised beef pastries are among the shareable plates on a menu that draws its inspiration from Central and South America.
• Related: United's Philippines-San Francisco service is a first
In-room dining menus present options from Miller & Lux, a Chase Center steakhouse by Food Network chef Tyler Florence, and from New Belgium Brewing, which operates a taproom up the block from Luma.
When guests order snacks or sodas from the hotel market, they're likely to meet an in-house robot named Henry. The "digital curator," as he's referred to, is wrapped in an illustrated version of the blue jackets worn by Luma staffers.
"He can move about the hotel freely," said Barrera. "He'll jump in the elevator, call the room phone to let you know he's outside, and when you open the door, his lid pop up. He's got space in there that allows him to make deliveries."
During a recent hosted stay, Henry was waiting to board the hotel elevator as I stepped out. "Pardon me," said a polite message on his display screen.
Rates at the Luma Hotel San Francisco start at $475 per night.
Source: Read Full Article